The health and safety of ou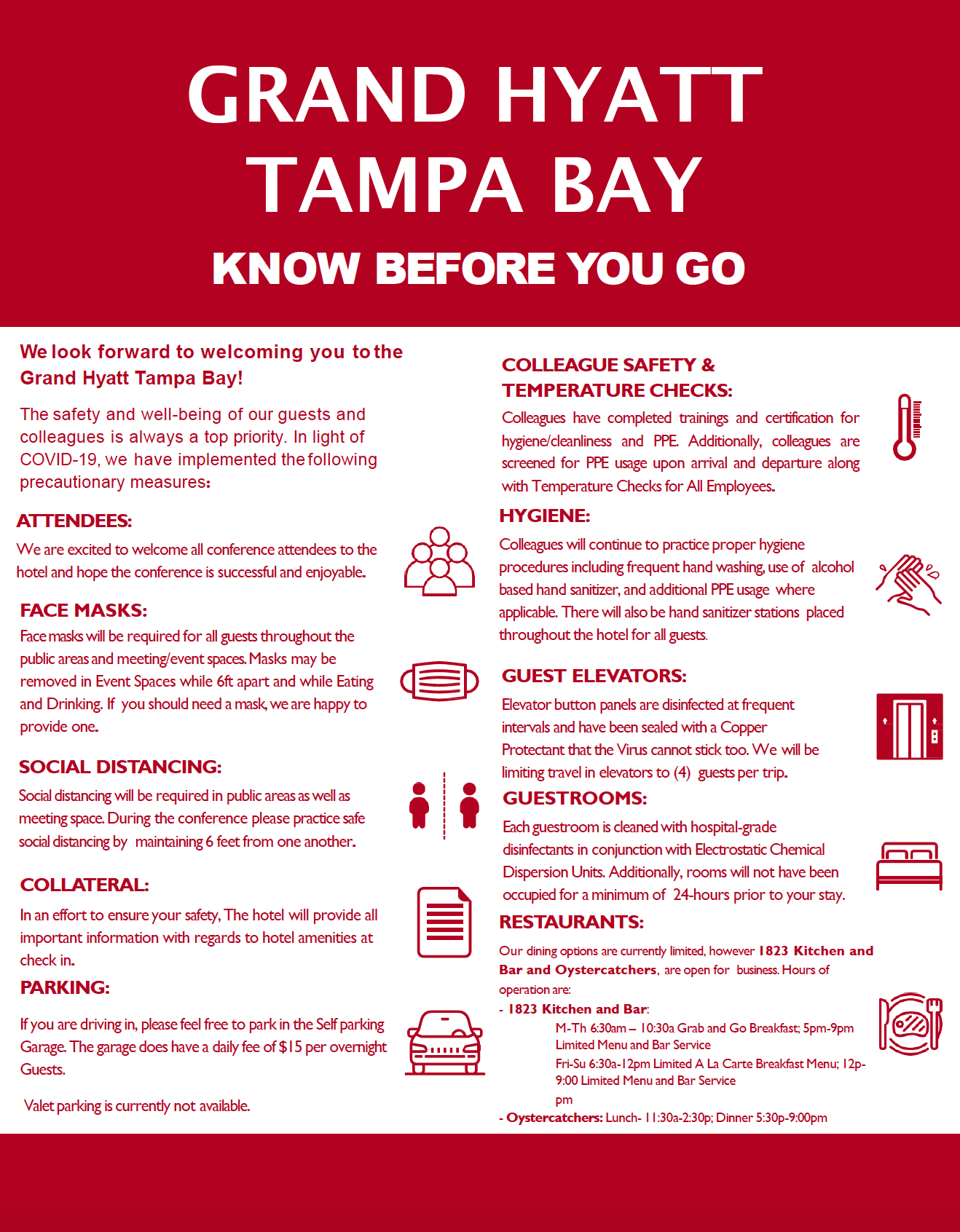 r team members, attendees, partners, and exhibitors is our top priority. Accordingly, we will remain up-to-date and follow all U.S. Center for Disease Control as well as U.S. Department of Defense guidelines.
The event venue, Grand Hyatt Tampa Bay, has taken many precautions to ensure that they can safely host gatherings. The venue has its GBAC STAR™ Facility Accreditation, the highest certification for sanitization and cleanliness available.
Below are some of the precautions that will be implemented.
Hand sanitizer distribution

Mandatory face covering

Increased hand washing encouraged

Enhanced cleaning protocols

Additional signage and verbal announcements

Controlled crowd density

Eliminating handshakes

Receptions will be held outdoors

All attendees will be required to sign a liability waiver

Attendees seating will be identified by a red tag (assigned seating in General Session)

Staff will routinely clean and disinfect frequently touched surfaces

Attendees will be required to adhere to 6' social distancing standards at all times

Food and beverage will be staff served from behind Plexiglas

Outdoor areas will be available for networking, eating and drinking
See the Hyatt's full list of precautions here.
ATTENDANCE POLICY:
While participating in events held or sponsored by the Global SOF Foundation ("GSF") "social distancing" must be practiced and face coverings worn at all times to reduce the risks of exposure to COVID-19. Because COVID-19 is extremely contagious and is spread mainly from person-to-person contact, GSF has put in place preventative measures to reduce the spread of COVID-19. However, GSF cannot guarantee that its participants, volunteers, partners, or others in attendance will not become infected with COVID-19.
In light of the ongoing spread of COVID-19, individuals who fall within any of the categories below should not engage in GSF events. By attending an GSF event, you certify that you do not fall into any of the following categories:
1. Individuals who currently or within the past fourteen (14) days have experienced any symptoms associated with COVID-19, which include fever, cough, and shortness of breath among others;
2. Individuals who have traveled at any point in the past fourteen (14) days either internationally or to a community in the U.S. that has experienced or is experiencing sustained community spread of COVID-19; or
3. Individuals who believe that they may have been exposed to a confirmed or suspected case of COVID-19 or have been diagnosed with COVID-19 and are not yet cleared as non-contagious by state or local public health authorities or the health care team responsible for their treatment.
DUTY TO SELF-MONITOR:
Participants agree to self-monitor for signs and symptoms of COVID-19 (symptoms typically include fever, cough, and shortness of breath) and, contact GSF at info@gsof.org if he/she experiences symptoms of COVID-19 within 14 days after participating.